ENGLISH CRAFTSMANSHIP
Our Wood Mill…
A very productive location in our factory is our Wood Mill. At the very start of our production line our components are hand made by experienced local wood machinists with decades of knowledge. Locally known as 'Wood People'.
Our wooden overmantels, a speciality of ours are all hand made using bespoke profiles unique to Yearn. A high proportion of our ranges are constructed from wood using an array of secret manufacturing techniques mastered since the companies inception. The methods used are extremely adaptable which allow us to constantly innovate.
Our Wood Mill is a fine example of how traditional making combines with the latest technology to create hand finished components. The high level of our finishing cannot be solely reliant on machinery and our team of experienced wood machinists give the most important finishing touches that is only made possible by our specialist technicians. This is where the journey begins for a Yearn mirror and where quality inspections are at their toughest.
The variations of timber we use are all inspected and hand selected on inbound to ensure consistency throughout our batch production.
A peek inside our Wood Mill
PU INJECTION MOLDING
Production using Polyurethane known as 'PU' is the key ingredient for our ornate and traditional ranges.
A fascinating process in which the polyurethane is injected into a closed mould at high pressures. The high pressure forces the polyurethane to completely fill the mould cavity which takes the shape of the mould. Over the years we have built up an impressive array of master moulds all constructed in house. This has enabled us to offer high levels of consistency in production as we are able to mass produce over and over again whilst staying in complete control over the level of finish.
Some of our oldest product lines in PU still remain some of our most successful ranges and have remained timeless throughout the everchanging trends. We have had the ability to offer consistency in supply over the years whilst in complete control of the high level of finish as the moulds are hand made in house and one of our best kept secrets.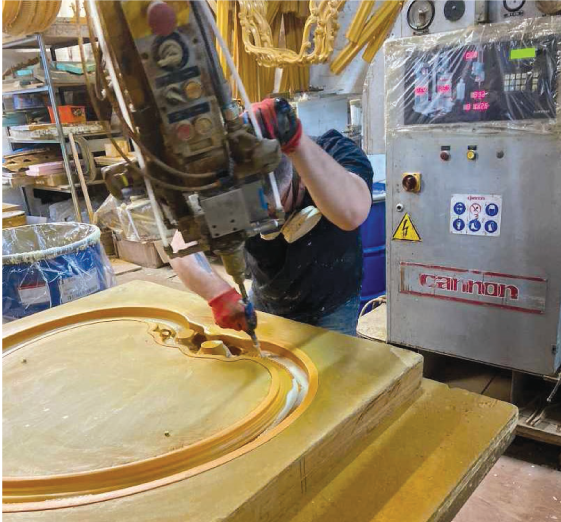 PU injection moulding
HAND FINISHING
Gilding
We have been Gilding since the very early days of Yearn and our gilt silver and gold finishes remain a vital ingredient in the finishing of our products. All of our gilt frames are hand finished in either gold or silver leaf. A highly skilled and delicate operation which involves applying fine metals to our wooden and PU frames. The finishing on our decorative frames are antiqued with a secret patina to complete the look and feel of the products.
Our more minimal and contemporary ranges tend to have a more brilliant gold and silver gilt finish in line with the products appearance.
Polishing
A number of our matt finishes are all hand sprayed using traditional techniques. Our greys, blacks, whites and ivories are all unique mixes. We recently introduced a deep bronze finish which adds a lot of depth and works well with bevelled mirror. Our team of highly experienced polishers go above and beyond to ensure all surfaces are smooth and prepared correctly before applying the finishing coats.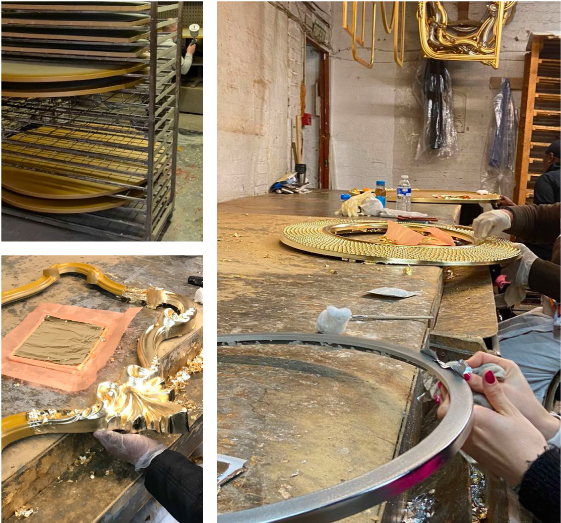 Gilding and Polishing
ASSEMBLY & PACKAGING
A very vibrant location within our factory filled with a unique mix of great characters.
Our Large team of framers and packers work like clockwork to ensure Yearn mirrors are correctly finished and packaged ready for outbound. We have constantly adapted this location of our factory over the years to ensure we are meeting the needs of the environment whilst doing our upmost to ensure the safe arrival of our beautiful mirrors.
The final checks, so very important at this stage and key decisions made by our team of Artisans to ensure the seal of approval before dispatch. Our packaging has been adapted in recent years and is now in a robust place. We are always innovating our packaging which is always an open project for us. This enables us to ship internationally with confidence and meet the demands of the current era.
Glass Processing
One of the key operations and heartbeat of Yearn is bevelling. All of our mirrors are cut and processed in our East London Factory. A high proportion of our designs come with bevelled edges as standard and is a key factor in the overall finish of many Yean Mirrors. Our Products are known and recognised for offering extremely high quality reflective attributes which makes the attention to detail in our mirrors highly desirable.
Shape bevelling and straight line bevelling is a vital ingredient and a busy hub within our factory. As you approach our bevelling works form morning to night you can hear the ring of the polishing wheels chamfering the edge of the mirror at precision. Most importantly these processes allow us to stay fully in control of the quality of mirror we are processing whilst keeping a close eye on the bevel.
As the technology is most advanced at this stage we are able to manipulate the bevelled angle and size dependent on product style. This is highly important for us when creating new designs.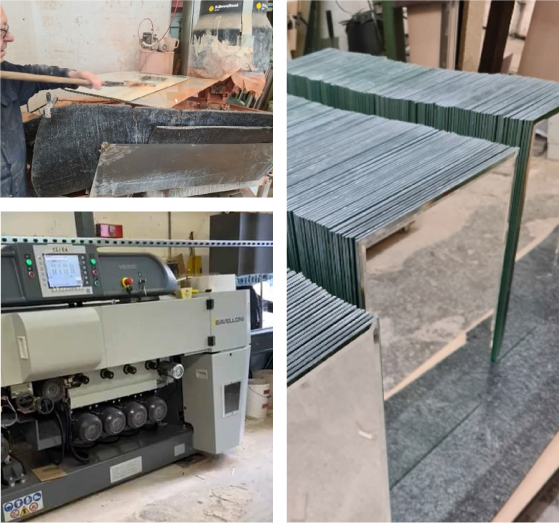 Shape and straight line bevelling